How does it work?  Why should I register?
What do I get by registering?
• The Garage sale weekend will be May 20-22, 2022 (Fri.-Sun.) There is no cost to participate.
• Each participating resident will conduct their own garage sale as they would at any other time of year. The difference will be that hundreds of other homes will also be conducting their garage sales the same weekend. The benefit is that thousands of shoppers attend the village-wide garage sale weekend. The huge number of garage sales draw more people, thus improving your chances of selling more merchandise.
• Berkshire Hathaway Starck Real Estate of Mount Prospect will provide a Daily Herald ad for the sale that will run from Thursday through Sunday (actual sale dates are Friday, Saturday & Sunday only).
• Registering by May 13 2022 will assure that your home appears on both the online map and the printed garage sale map. We print 5,000 maps that will be available to the shoppers the weekend of the sale.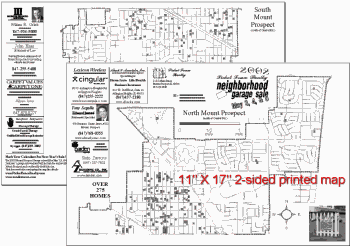 • MPGarageSale.com – Garage Sale participants can register online to participate as well as see the number of homes participating and the map of those homes.
• Berkshire Hathaway Starck Real Estate of Mount Prospect will also provide you with 2 "neon green Garage Sale" signs for your parkway, as well as for the corner of your block.
• Last year, 368 homes participated in the "Mount Prospect Garage Sale Weekend".
• WGN – Channel 9 News called Mount Prospect's Garage Sale Weekend "Illinois' Largest Group Garage Sale.".
•If you haven't joined the Mount Prospect Garage Sale Weekend in the past… now is your chance to join. Ask your neighbors if they will join too.
• Best of all, it's FREE, so sign up now!